The Ultimate Guide to a Rosh Hashanah GAPS Diet Feast!
Are you getting ready for a Rosh Hashanah GAPS diet extravaganza? As if the regular cooking on GAPS wasn't enough, there is nothing quite so exasperating as recreating traditional holiday dinners on the GAPS diet!
But also, it is a healthy, nourishing and festive way to celebrate the holiday with family and friends. We wouldn't have it any other way!
Read on for a complete Rosh Hashanah menu plan and recipes, appropriate for GAPS diet, SCD and Paleo diners alike!
Rosh Hashanah GAPS Diet Planning
In the realm of holidays, the traditional Rosh Hashana meal is one of the easier ones to adapt for food allergies, and dietary considerations. There are so many parts, that it is simple enough to skip some or make minor alterations.
Now that we've done this a couple of times, I decided to share our recipes and adaptations to this holiday meal. I see many of these recipes coming in useful for other High Holiday meals: Yom Kippur, Sukkot, Simchat Torah or any festive meal you have going on.
Here are GAPS legal recipes for the blessings and ideas for a festive meal. Don't miss out on downloading a complete Rosh Hashanah shopping list at the end of this post.
Rosh Hashanah Blessings Recipes
Wine and Challah
Grape Juice for GAPS
Every holiday starts with wine and challah. When we were on the GAPS Introduction diet, my solution for grape juice, was buying fresh grapes, and juicing them just before our meal. We used this juicer, and while not great, it was certainly good enough!
At this point we've had a lot of healing, so I found the best natural grape juice I could get locally. In previous years, we have used this brand, one that is produced in New York.
GAPS Challah
Challah…is always complicated on the GAPS diet. Since we are slowly transitioning off of GAPS, one of these days I will learn to make a sourdough challah. In the meantime, we buy one and have as little as possible, or skip it altogether.
For this year, I just ordered a silicone challah pan. I'll be attempting a new GAPS legal challah recipe. Update: We made an almond flour loaf and it came out pretty well.
Apples and Honey
The most famous of Rosh Hashanah blessings in also the easiest one! So GAPS, so easy. For the first blessing all you need is some cut up apples, and dip in some (local) raw honey!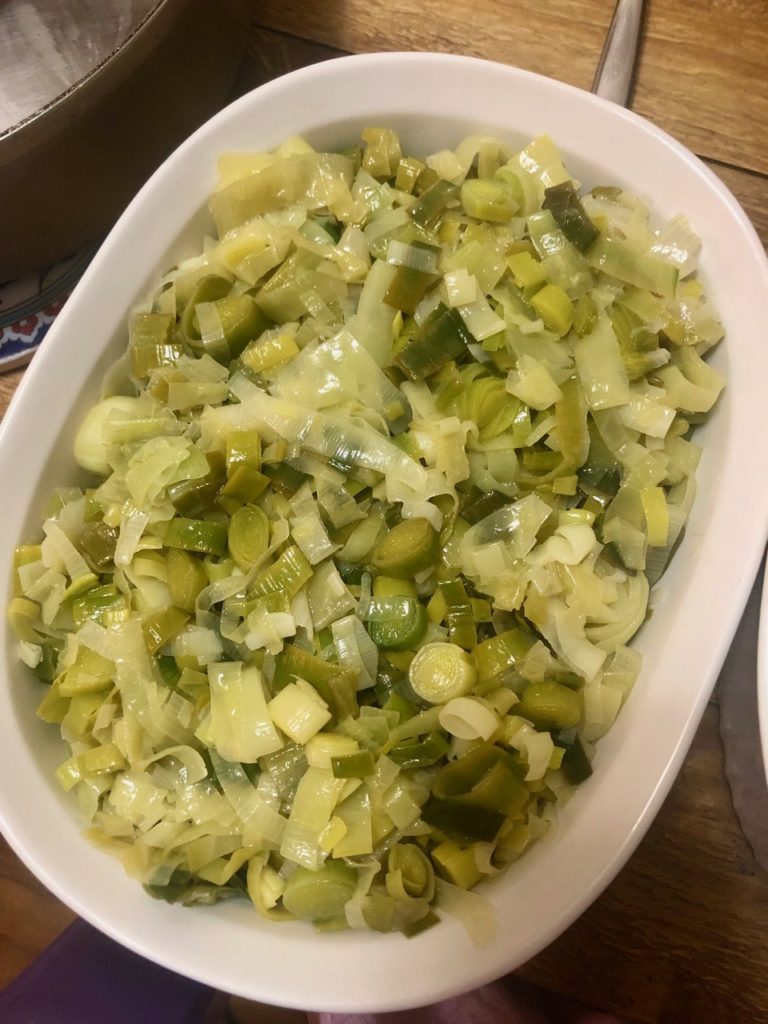 Leeks
Again, super easy to make Rosh Hashanah leeks on the GAPS diet! I took several leeks and chopped into rings. Then I sautéed in a bit of avocado oil until soft, and finished with lemon juice and salt. Make sure they don't brown!
Beets
Rosh Hashanah beets are thankfully a GAPS legal vegetable, making this another easy win. You could just cook some beets in water or broth. We have them cut and chilled, and seasoned with lemon juice, olive oil, salt, pepper, cumin, and a tiny bit of cilantro.
Dates
Dates, are a dried fruit and perhaps a more advanced GAPS food, but we have them regularly. The best tip I have is to try to get the Medjool dates. If you're local to New York, this is where to get fresh, awesome imported dates (and so much more).
Squash
Another win, for those on the GAPS diet. Squash is an every day dish I'm used to making.
For this occasion, I slice in half and deseed. Put both halves face down in a baking dish with a little bit of water. Roast at 350 until soft.
The water will keep the squash from caramelizing. Use that nugget of information to decide if and how much water to use. Early stages of GAPS will want to make sure of no browning.
Rubia – Beans
Alright, we've reached our second tricky item. Rubia, are black eyed peas, which are not SCD legal. When we were in our peak GAPS days, we replaced them with navy beans which are GAPS legal.
Now, with no digestive symptoms, we were able to incorporate traditional Rosh Hashanah rubia in our meal with no ill effects. To prepare: soak the beans over night. Cook in fresh water (or broth) until soft. I then lightly "refry" with olive oil, salt and cumin to flavor our bland beans.
Pomegranate
Pomegranate, as a fruit, is obviously GAPS legal, although I suspect it may be harder to digest if you are in the initial stages. The trick we use to de-seed the pomegranate is shown here.
Fish Head
Alright, here is where I'm going to have to admit, we are not purists of tradition. I have never made gefilte fish for Rosh Hashanah and I can only think of one year where there was a ceremonial fish head on our table, (and that was courtesy of our guest). So, we use any fish we like in whatever preparation we deem appropriate. Again, fish is obviously GAPS legal so use the preparation you prefer.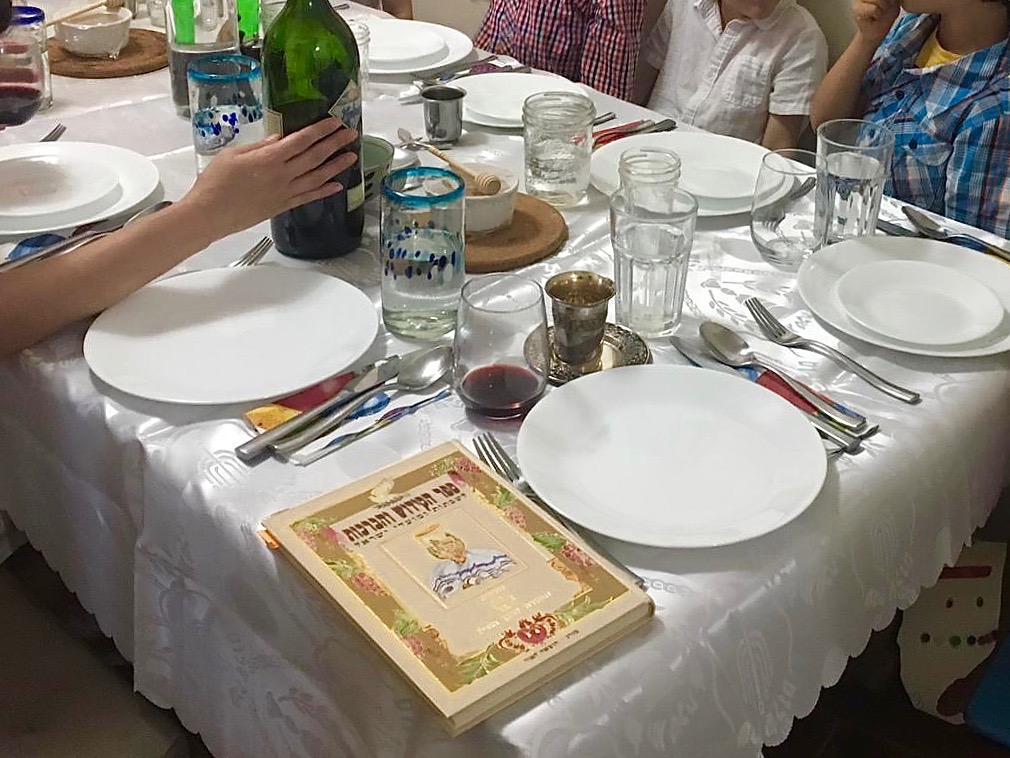 Rosh Hashanah Meal Recipes
You can scour the web for the best Rosh Hashanah dinner recipes, but I've found that whatever you like, that works for your family is the best meal to have. That means that yes, our menu changes from year to year.
This year our Rosh Hashanah menu was very simple but also included a couple of non-GAPS options to accommodate our guests' dietary restrictions.
Chicken Soup
Can't get more GAPS legal than short cooked meat stock…otherwise known as Chicken Soup! It goes without saying, we use raw chicken on the bone, cover with water and cook for roughly 1.5 to 2 hours (skimming off any impurities that come to the top).
Our preferred veggies in the soup are celery, onion and carrots (must), parsley and zucchini (nice to have). A great start to a Paleo Rosh Hashanah meal for sure.
Chopped Liver
Many people have the custom to serve chopped liver, similiar to a liver pate. Here are several recipes you can try. Bonus points for eating organ meats while on GAPS even during a holiday meal.
Chicken with Butternut Squash
This is the recipe I used, although I left out the sage and added lemon juice and honey to season the chicken in a more Rosh Hashanah appropriate manner. Again, in the earlier stages you will want to avoid browning. Butternut squash again, is a great GAPS legal side dish.
Beef Roast in the Crockpot
I want to say I used a recipe, but I read a few and then made up my own. This GAPS Beef Roast would work at pretty much any stage, from Stage 2 onwards. It went something like this:
Sautée onions and mushrooms, add to slow cooker
Place roast on top
Put carrots and celery around the roast
Add 1/2 cup liquid (I used water, but a more GAPS solution would be to use broth)
Cook on low for several hours…I think it was around 4, but I used a thermometer to make sure it was cooked and then just moved to keep warm until dinner time.
Side Dishes
We made a salad and green beans for the GAPS diet diners, and also rice and corn on the cob for our other guests. Also served with tahini dressing on the side. And for our fermented foods: olives and pickles!
Note- One of these days I will actually make measurements and perhaps update this post with exact proportions. For now, I trust your GAPS diet experience to guide you on the way to a tasty meal, and am serving up these details as hopefully helpful suggestions.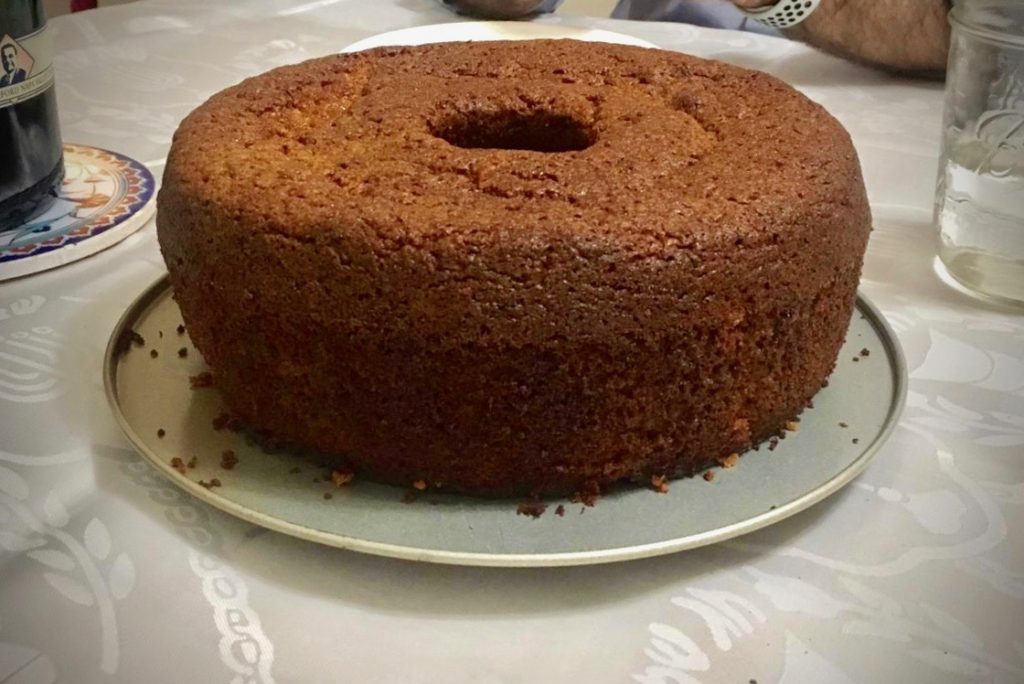 The Ultimate Full GAPS Rosh Hashanah Honey Cake Recipe
The best Rosh Hashanah dessert is most definitely a moist honey cake. This is the recipe I developed to best mimic my grandmother's traditional honey cake recipe.
The recipe includes honey, of course, plus eggs, oil, almond flour, coffee, tea and baking soda. Click here for the complete honey cake recipe instructions!
Final Words of Wisdom
When we first went on the GAPS diet, I felt extreme stress in getting everything right! I'm sure that did nothing to promote healing. So as you prepare your festive meal, these are my final pieces of advice.
1. Plan and Take your time
Plan with time and take your time. A week out decide on your menu, a few days before source ingredients, and start cooking at least 2 days before your meal!
Here is a sample schedule:
4 days before the holiday
Soak beans
Make honey cake and freeze.
3 days before
Cook and season beans
Defrost chicken for soup
2 Days Before Erev Chag
Make carrots, beets, leeks.
Make chicken soup.
(Make honey cake if you have not already.)
Have whole fish for dinner and save the heads.
Day of (Erev Chag)
Deseed pomegranate
Cook main meat, sides, salad.
Roast squash
Defrost cake
Reheat soup
Cut apples
2. Reduce Stress
Don't stress! The food will be fine. In the realm of a lifetime, one meal, one holiday, one weekend is nothing. Seriously!
Ask for help, put the kids to work, and relieve yourself of expectations. Sticking with GAPS is hard work on a regular day, and it is not worth the stress of wearing yourself out for the perfect holiday meal.
3. Feel the joy of the holiday
Be happy! Rosh Hashanah is a holiday of renewal. Make the commitment to be happy every day! Stepping into a new year with joy will help your family and healing process just as much as all the cooking involved in nourishing your family.
Have you celebrated Rosh Hashanah while on a paleo or GAPS diet? Or any other special diet? Did you adjust recipes, or make it a "cheat" day?
Let's make planning your own GAPS Rosh Hashanah Dinner EASY! Download the complete shopping list for everything needed to recreate this feast.