GAPS, Paleo, Keto Camping Recipes
When you put so much effort into maintaining your diet for the benefit of your health, it can be a bummer to leave your home environment and then end up not feeling very well.
There are great strategies for finding healthy food while you travel, but how about when you go camping?
Camping food conjures up images of s'mores, hot dogs or maybe even freeze dried packets of prepared meals! But nowadays it is getting easier to find camping recipes that fulfill a number of dietary requirements.
I've reached out to fellow health food minded bloggers, to come up with a list of GAPS, Paleo, Keto Camping Recipes. These healthy camping recipes should make for a fun camping trip while keeping everyone's digestion functioning optimally!
Note to those following a GAPS diet, many of these recipes will be best for advanced full GAPS or coming off GAPS.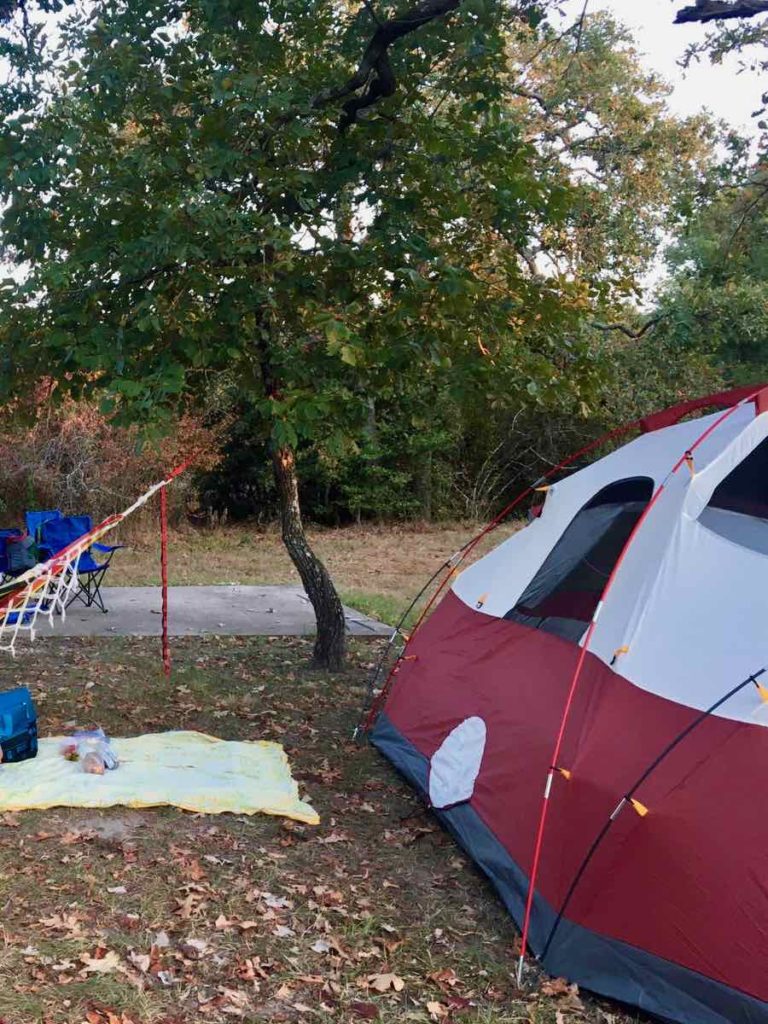 This post may contain affiliate links.
GAPS Diet, Paleo Diet, and Keto Camping Recipe Ideas
We have been camping two times while sticking to a healthy whole foods diet. Our first camping trip in Upstate New York, we maintained a paleo diet while camping. Our meals included:
tuna in lettuce wraps for lunch (GAPS intro stage 5 and up)
paleo hot dogs for dinner (Full GAPS)
eggs cooked on the cast iron for breakfast (GAPS intro stage 3 and up)
The next boys camping trip, was after we had already moved to Texas, and were following the GAPS diet with kids. This was a last minute camping trip, so the meals were very simple:
paleo sausage for dinner + home made broth in a mason jar (GAPS intro stage 3 and up)
hard boiled eggs for breakfast
snack lunch: jerky, fruit (GAPS stage 6 and up)
Our family is looking to go camping this summer, and I thought it was about time to step up our camping cooking game. So here are a bunch of recipes we can make either ahead of time or over the campfire.
Hopefully these will help you get ready for camping while sticking to your diet. I have vetted the recipes to make sure they are not only Paleo and Whole30 compliant, but also adhere to GAPS principles (so no shady ingredients, polysaccharide sweeteners, protein powders, etc). I'll be back with reviews later in the summer or early fall when we've had a chance to try them out!
Paleo Breakfast Camping Recipes
Eggs– You don't really need a recipe, and this is definitely our go to camping breakfast. Whip them up any style you like on your cast iron pan. Don't forget the ghee!
Homemade hot cereal mix– Make a mix of nuts and seeds and then add hot water to make a "cereal". Alternatively, you can buy this pre-made hot cereal mix.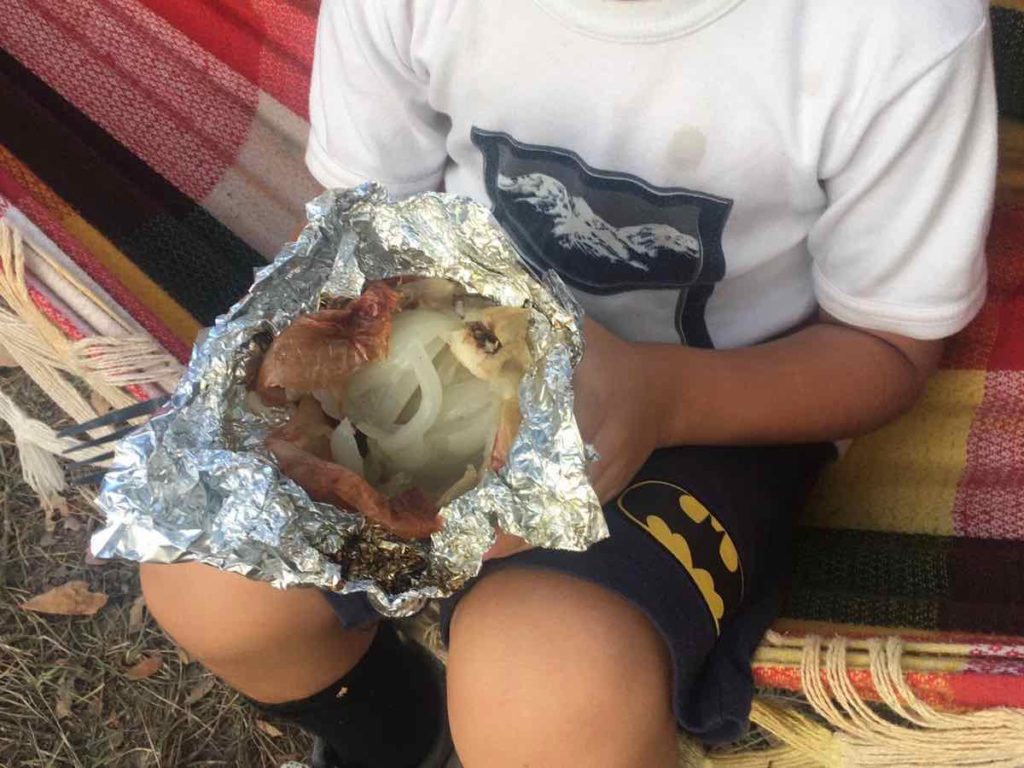 Paleo Dinner Camping Recipes
Roasted Garlic Recipe– This easy roasted garlic is perfect to throw on the grill or over the campfire while dinner is cooking!
Grilled Chicken Recipe– This Whole30 BBQ Grilled Chicken is hearty, savory and perfect for camping! It is made with only a few ingredients. This chicken can be grilled or cooked over the campfire! You will need to get this barbecue sauce to make it.
Steak Marinade– Here's a marinade you can use for your steak. Steak is probably the easiest food to grill, so it's great for your first night of camping. The recipe calls for this cajun seasoning (skip the other options).
Grilled Veggie Kebabs– Veggie Kebabs are a barbecue classic. They are perfect for grilling while camping. Best of all, you don't actually need to prepare them ahead of time, just throw the whole veggies in your cooler and before a meal, cut and skewer!
Shrimp Foil Packets– These make-ahead Shrimp Foil Packs are full of juicy shrimps, quick cook veggies and everyday spices. Bonus is that they require minimal prep and no cleanup
*Reminder to always line your foil with parchment paper, so that the foil does not touch your food.
Chicken Fajita Foil Packets– These 5 ingredient Chicken Fajita Foil Packets are a minimal prep lunch or dinner that can be made on the grill. The whole family will love these.
Salmon with Snow Peas Foil Packets– Again with the foil packets. Salmon and snow peas sound delish right?
Paleo Dessert Camping Recipes
Because what's camping without campfire dessert? Here are a few options to try and end your camping meals on a sweet note.
Paleo Campfire Banana Boats– We have done this with 100% chocolate for an extra special treat.
Apple Crisp Foil Packets– If you're already on the foil packet train, why not try a dessert version. You could even leave the granola out of this recipe. Just sprinkle some crushed pecans or leftover trail mix.
Cashew Energy Balls– This is a simple energy ball recipe that you need to make ahead of time. Use your food processor at home and your desert comes ready to go!
Healthy Camping Food (You Can Buy)
In addition to these fabulous meal ideas, here are a few store bought options that you can bring with you. I get most of these from Whole Foods since that is the store we have around here, and can reliably find nationwide.
Larabars (Cherry Pie, Pecan Pie, Cashew Cookie are paleo, but not keto)
Epic Beef Jerky (Wagyu beef, Venison)
Chomps Turkey Jerkey (Beef is also good)
Dried fruit: mangoes, dates, figs, raisins etc.
Nuts: almonds, pecans, walnuts, pistachios, etc.
Canned salmon (I like that this one has bones and skin, but you need a can opener)
Kettle and Fire Bone Broth (works for Full GAPS)
Unsweetend chocolate chips for melting
Wella paleo "no'atmeal" (hot cereal)
Camping on a Healthy Diet
Hopefully all of these recipes and ideas make your next camping trip as fun and simple as possible. Let's enjoy camping season and feel good!
If you're planning your first camping trip, check out this post for how to prepare and a complete camping checklist. And if you still need to buy your family camping gear, here's another post with my down to earth recommendations for the best not-too-expensive family camping gear!
Good luck campers!
Have you been camping while on a healthy diet? What kinds of foods did you bring or make?